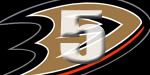 OPINION:
These are the kinds of games that show a fan that their team is serious about wanting to win. The Ducks battled back from being behind twice in this game. They fought for every goal. They didn't give up when they went down. The climbed right back into it. These games are the games I love to see. It doesn't only boost the teams confidence to be able to come from behind and battle back to win, it boost the fans confidence in knowing that they can do it. I don't think I was the only one doing a happy dance in the living room when Teemu Selanne scored the tying goal that would send the Ducks to overtime, and I don't think I'm the only one who let out the loudest possible yelp when Cam Fowler (Get in on the #Fowler4Calder hash tag on twitter if you have one, this kid is worth it!) scored the winning goal with just seconds left in overtime. Amazing win by an amazing group of guys. This game has me saying: These Ducks are for real now. They aint playin' around no more. In it to win it.
POST GAME QUOTES:
"Luckily it went in," the 19-year-old Fowler said. "I didn't get as much on it as I would have liked and it looked like it fooled him a little bit. They always say that backhanders are the hardest to stop."
"Cam Fowler is an amazing hockey player," said Selanne, who assisted on the winner. "It's unbelievable that young guys like that can come into the league and dominate in pretty much every area. If this guy doesn't win the Norris Trophy one day, it's going to be a crime."
"When we watch guys like Fowler and all the young guys play like that, we feel younger too," Selanne said.
"This was huge for us," Fowler said. "If we drop this one, Calgary jumps ahead of us in the standings and now we bump up to fourth. You can just see the degree of difficulty that's involved in a conference like this. Every game is huge and all the points matter and we're lucky to come out of here with two."
"Curtis has been real strong with us," Ducks coach Randy Carlyle said. "He's had more of an opportunity with us than he had with the Flames because of the situation he's in."
GAME NOTES:
Calgary LW Alex Tanguay (neck) missed his second game ... Selanne's three assists gives him 690 in his career, moving him past Maurice Richard and into 53rd on the NHL's all-time list ... Calgary D Cory Sarich played in career game No. 800 ... Anaheim D Francois Beauchemin was in the lineup for the first time since Wednesday's trade with Toronto. Beauchemin spent four seasons with the Ducks before signing with Toronto as a free agent in July 2009. ... The Flames play in Vancouver against the Northwest Division-leading Canucks on Saturday night.
Source for Quotes & Game Day Notes:
ducks.nhl.com
PHOTO OF THE GAME:
Anaheim Ducks' Teemu Selanne, right, from Finland, and Saku Koivu, from Finland, celebrate the team's win over the Calgary Flames during overtime of an NHL hockey game in Calgary, Alberta, on Friday, Feb. 11, 2011. The Ducks won 5-4.(Photo Credit: Yahoo Sports)