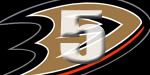 OPINION:
Happy New Year! It's a rare game from the Ducks when you see them use the full 60 minutes to play hockey, but we got that from them tonight. Once again I say, I think the meetings Randy Carlyle held before the Phoenix game could have been just what the doctor ordered. After a pretty rocky road trip they have played the past two games the way they need to keep playing for the 2nd half of the season.
Can you believe that this game wrapped up the first half of the season for the Ducks? It feels like it just started after a really long summer that took it's time ending, and yet here we are, half way through. Of course, there's only one other team who has made it to game 41, and that'd be the Atlanta Thrashers. With a top heavy first half, the Ducks players can look forward to a somewhat lighter back half. The fans can start looking for other teams to catch up with their games in hand, and the standings will start to look a little more real.
Can you also believe that this was the first time the Ducks have won a new years eve game? We FINALLY get to enter the new year on a happy note! Hello 2011. Be good to the Ducks, k?
POST GAME QUOTES:
"With Getzlaf out, it's a huge hole for us to fill," Blake said. "We knew they played last night [7-4 win in Los Angeles] and we wanted to jump on them right away."
"I'm very happy to have 100 goals in my 10th season," Visnovsky said. "I look at the [game notes] paper before the games. Everybody knows how many games and how many goals you have. I knew two more goals and I would have 100. I'm very happy I scored them before the start of the New Year."
"Our guys battled back and got the goal back," said Ducks coach Randy Carlyle. "That was our mindset. We had to go out and win the third period. It didn't matter what was happening, we had to win that period. That was what our goal was and we went out and did it."
GAME NOTES:
-The Ducks have improved their record at home this season to 12-6-1, earning 25 of a possible 38 points. Anaheim has posted a 5-2-0 record at Honda Center over the last seven contests.
-Tonight marked Jonas Hiller's fourth career assist. His recorded his last assist on Mar. 17, 2010 vs. Chicago at Honda Center. --Over the last 11 games, Hiller has gone 6-3-1 with a 1.87 GAA (20 GA/643 MIN) and .945 SV% (345-of-365).
-With two assists in tonight's contest, Teemu Selanne has moved to within one assist of a share of 55th in all-time assists (Bobby Smith, 679). In 1,218 career NHL games, Selanne has earned 616-676=1,294 points, now sitting just six points away from the 1,300-point marker. Selanne has 0-6=6 points over the last five contests.
-Lubomir Visnovsky's second goal on the night was the 100th of his career (100-285=385). It was his first multi-goal game since Mar. 19, 2010 vs. the New York Islanders (2-0=2) and the seventh multi-goal game of his career. Visnovsky has 3-1=4 points in the last six contests and 4-6=10 points in the last 11.
-Tonight was Jason Blake's first multi-goal game (2-0=2) since Dec. 3, 2009 with Toronto at Columbus. It was the 22nd multi-goal game of his career (has 6 career hat tricks). Blake is now just two goals away from the 200-goal milestone.
-With an assist in tonight's game, Brandon McMillan has his first career point streak (0-2=2 over the last two games). In addition, McMillan has 1-3=4 points over the last five contests.
Source for Quotes & Game Day Notes:
ducks.nhl.com
PHOTO OF THE GAME:
Anaheim Ducks defenseman Lubomir Visnovsky, center, of the Czech Republic, reacts with right wing Teemu Selanne (8), of Finland, after Visnovsky scored in the third period of an NHL hockey game in Anaheim, Calif., Friday, Dec. 31, 2010. Visnovsky scored his 100th career goal as the Ducks defeated the Philadelphia Flyers 5-2.(Photo by Yahoo Sports)