codebase="http://active.macromedia.com/flash2/cabs/swflash.cab#version=4,0,0,0"
ID=onepiece-sj WIDTH=400 HEIGHT=533>


Graphic Credit: BuckyHermit @ duckscentral.net
NOTE: Game starts at 7:30 instead of the usual 7:05.PERIOD 1:
1 - 2
PERIOD 2:
2 - 3
PERIOD 3:
3 - 4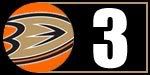 OPINION:
I was not a big fan of Randy Carlyle putting Hiller in the net tonight. It has nothing to do with Hiller himself, it has more to do with Giguere has been the recent hot hand and he is a big factor as to why the Ducks were in a good process of clawing their way out of the cellar in the West. But Carlyle clung to his "win and you're in" method and because Giguere got a loss in overtime he's out, and in goes Hiller. Hiller did not win tonight so Giguere should be in for the Dallas game on Thursday.
As for the Kings-- I never thought I would live to see the day, but I have to give kudos where they are due, and the Kings played some pretty solid hockey tonight. They are where they are in the standings for good reason. They played really well. Could they make the playoffs? Considering the Ducks being a total dud so far, they could. But I don't think they'll make it far. Not enough playoff experience as a team (...none, actually) for them to do anything spectacular (unless they go for that whole "Cinderella Story" type of thing...).
I'm getting ahead of myself, they could still have a total collapse during the regular season. They would need to collapse and the Ducks would need to go full speed ahead for the situation to turn around, but the hockey season is funny that way... it really could happen.
POST GAME QUOTES:
"We had lots of chances with the goaltender out and the power play, but we just couldn't find a way to put one across the line," said Ducks coach Randy Carlyle.
"I thought I had him," Ryan said. "He didn't go down into that butterfly stance that he normally does. I was trying to shoot for that far corner. I had it, it was going there and he got his shoulder in the way. It seemed like it was going to fall right to the side of him, but it just fell beyond the goal line. We had a lot of shots that seemed like they were that close tonight."
"It was hard because we pulled even," said Ducks captain Scott Niedermayer. "But if you look at the game as a whole, we gave them a start there and had to battle back. You can't count on coming back and winning the game in a shootout or overtime. We were there and had that opportunity, but it didn't go our way. We have to get back to playing the way we were prior to these last couple of games."
"We gave ourselves a chance," Ryan said. "Todd Marchant goes out and gets us a goal that was a huge emotional boost for us. They came right down and scored not too long afterwards. We've done that numerous times this year. It's something we've addressed and gone over a number of times, but it seems to keep happening."
Source for Quotes:
ducks.nhl.com
PHOTO OF THE GAME:
Los Angeles Kings goalie Jonathan Quick watches Anaheim Ducks defenseman Ryan Whitney's goal in the second period of a NHL hockey game in Anaheim, Calif., Tuesday, Dec. 1, 2009. (PHOTO CREDIT: Yahoo Sports)