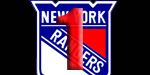 OPINION:
After a disappointing loss the previous night, this game was MUCH better. They put more effort into the game, and while they did their signature move of letting the other team tie it up in the final minutes, they also held on for the win, which is ultimately what matters the most. The Ducks (and I) get to fly home on a win! Huge thanks to Bobby Ryan for sinking that goal in the shootout to make that happen. Bigger thanks to Hiller for stopping everything else the Ranger's threw at him. It's still early, but it's a pretty safe bet that Hiller is back with a vengence, and that is music to any Ducks fans' ears. On the same hand, it's nails on a chalkboard to any opposing teams fans' ears, & I'll admit, I enjoy it.
POST GAME QUOTES:
"It wasn't the way it was drawn up, but I'll take it. I'm gonna label it a fortunate miss," Ryan said. "I had one (scoring chance) in the second period that I'd really liked to have back, so I think Henrik and I will trade even today."
"It's a good thing to get the first point out of the way. Now I can just kind of relax and hopefully get that first goal," [Smith-Pelly] said. "I thought yesterday I was a little bit nervous for most of the game. It probably showed in my game. But today I was much more calm, getting a little more confidence with the puck."
Source for Quotes & Game Day Notes:
Wall Street Journal Online
PHOTO OF THE GAME:
Anaheim Ducks' Ryan Getzlaf (R) congratulates teammate and goalie Jonas Hiller for stopping the last penalty shot against New York Rangers's Artem Anisimov (unseen) after an overtime during their NHL season ice hockey game at the Globe Arena on October 8, 2011 in Stockholm. Ducks won 2-1. (Photo by Jonathan Nackstrand /AFP/Getty Images)