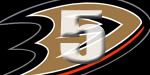 OPINION:
I was really hoping the Ducks would teach me a lesson for missing one of their spectacular games to be a responsible retail worker and attend to the obligatory Black Friday duties, but they didn't. I don't think anyone understands how much it kills me to miss a game. I died a little today after a temper tantrum that included kicking my feet. Life went on and I caught the DVR'd version (I can FF through the bad parts! Yay!) and I think there are positives to be brought out of the game, along with some ever present negatives.
On the plus side, RPG finally made an appearance in this game, in a pretty big way. Our 2nd line continued to do their job. & for 40 minutes, the Ducks played some solid hockey.
On the negative side hockey games require 60 minutes of solid hockey, not 40. And our defense is still figuring out how to defend. The guys had a lead and thought they could sit on it. I'm somewhat thankful they were shown that doesn't exactly work, but at the same time, I wish it would have.
November is almost over. We get to host two teams that don't come here often for the remaining November games. Toronto will be here Sunday and we'll see Koivu's old team the Canadiens on Wednesday. I've come to expect losses around these parts, but if they figure a win or two into those games, I know a lot of Ducks fans who would appreciate it.
POST GAME QUOTES:
"We came out with the energy that we wanted and got the lead. We didn't finish the game the way we wanted," said Ducks captain Ryan Getzlaf. "We are very concerned. This is not something that we're willing to accept around here. We have to change the mentality. The start of every period, we have to treat it like it is 0-0 and learn how to win those kind of games."
"Right now, we're finding way to lose hockey games when we have prime position to win hockey games," said Ducks coach Randy Carlyle. "It's very frustrating and confusing for everybody involved."
"We came out in the third and it was two within a minute. Then, the game just dramatically changes," said Bobby Ryan, who broke a scoring slump with two goals. "You could almost feel the tempo change on the bench. Guys got down. That's the sign of a team that has been accepting it for a little while. Two goals within a minute span, both on our line, is heartbreaking. If you could put a finger on it, it would be easy to get out of it."
"Maybe halfway through the second period, we started to stop forechecking and started to just receive," Carlyle said. "It turned the momentum of the game around. In third period, it was like we froze. They scored in the first shift and then they scored in the second shift. We froze."
"A little bit of panic sets in when we get scored on," Getzlaf said. "It's a tough thing for us. We have to find a way to change that. I have never been in this kind of rut in my career so far. Most of the guys in here are with my in that boat. That's a tough lesson to learn."
Source for Quotes & Game Day Notes:
ducks.nhl.com
PHOTO OF THE GAME:
Anaheim Ducks left wing Bobby Ryan (9) scores on Chicago Blackhawks goalie Corey Crawford (50) during the first period of an NHL hockey game on Friday, Nov. 25, 2011, in Anaheim, Calif.(Photo Credit: Yahoo! Sports)