vs.
September 24, 2009
Venue: General Motors Place
Where: Vancouver, British Columbia
Time: 7:00pm Pacific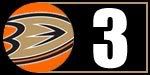 SIDENOTE: For those who have left comments, I was not receiving e-mail updates letting me know I had comments! They have been published and I was not ignoring them on purpose! :) Sorry about that!
Teemu Selanne celebrates overtime game winning goal with Saku Koivu! [Photo Credit: Yahoo Sports]