codebase="http://active.macromedia.com/flash2/cabs/swflash.cab#version=4,0,0,0"
ID=onepiece-sj WIDTH=400 HEIGHT=533>


Graphic Credit: BuckyHermit @ duckscentral.net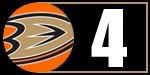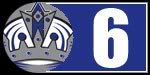 OPINION:
Gotta hand it to those Kings. They are, begrudgingly, a good team. I also have to hand it to the Ducks who did their best to hang in there. They went into the 3rd down by 2 goals, the Kings scored almost right away in the 3rd to make their deficit to 3 goals, and they came back and tied it up. That was about all they could manage though because the Kings didn't panic at that and grabbed 2 more goals. It wasn't the best of games for Jonas Hiller, but he had a pretty good game in spite of being in back to back and facing the Red Wings the night before. It baffles me that all 3 games played in L.A. are the 2nd in back to back games while L.A. has the fresh legs for them. I hate the schedule makers for that. The Ducks face them AGAIN on Monday, only this time it'll be at home in Anaheim and after 3 days of rest. For the love of hockey I just want them to win. L.A. is 3-0 against us this season and it makes me sick to my stomach.
POST GAME QUOTES:
"We can't win hockey games giving up six goals. It's as simple as that," coach Randy Carlyle said. "We worked hard, but we just seemed like we ran out of gas at the end. That's the sign of a tired group. We came off a 13-day road trip and played last night against Detroit and then came in here."
"We just seemed to have moments where we didn't play the way we needed to and we made mistakes with the puck," Anaheim captain Scott Niedermayer said. "The Kings probably felt that they did, too, but not as many as us—and that was the difference."
Source for Quotes:
Yahoo! Sports
PHOTO OF THE GAME:
LOS ANGELES, CA - FEBRUARY 04: Jason Blake #33 of the Anaheim Ducks celebrates after scoring a goal against Jonathan Quick #32 of the Los Angeles Kings during the period of the NHL hockey game on February 4, 2010 in Los Angeles, California. (Photo by Kevork Djansezian/Getty Images)