codebase="http://active.macromedia.com/flash2/cabs/swflash.cab#version=4,0,0,0"
ID=onepiece-sj WIDTH=400 HEIGHT=533>


Graphic Credit: BuckyHermit @ duckscentral.net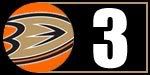 OPINION:
The Ducks didn't waste any time setting the tone for this game. While the Wings fan behind me was yelling for his team to "put it in the net" the Ducks just so happened to listen to him. It went in the net, for the good guys. The first period was just an all around solid effort. The second period was a little chippy, a little more sloppy, which is par for the course but they also grabbed a goal in that period too, unfortunately so did the Wings, which snapped Hiller's shutout streak. Which is fine, you can't expect a shutout every game, that's just crazy talk. It was the only goal Hiller (the "insert any other team here" Killer) would allow and the Ducks cruised to the 3-1 victory. It might also have helped that Detroit was on the 2nd end of a back to back and had to play the Sharks last night, but that's up to them to make the excuses, I don't really care. The 2 points grabbed tonight got the Ducks within 3 of the coveted 8th spot that it feels like everyone is in a battle for... and if they win tomorrow they could be within 1 precious point. The team that gets to play part in this decision is unfortunately one that would love nothing more than to spoil these hopes. The LA Kings are the Ducks' next opponent x2. The Ducks are 0-2 against them, so let's just hope for the best tomorrow and that the Ducks snap that record. And then hope that on Monday they even it up at 2-2.
POST GAME QUOTES:
"It's fun to play if you get a lot of shots, but it's also a little tiring," Hiller said. "We found a way to win tonight."
"They are a great team no matter where they are at in the standings," said forward Jason Blake, playing his second game with the Ducks after coming over in a trade that sent J.S. Giguere to Toronto. "They always seem to be in the thick of things all year long. It was a great night by our goaltender. He played outstanding. It was a great team effort. That is all you can ask for."
"We had a good start and that gave us a lot of confidence," Hiller said.
"We gave ourselves a good start and built on that," Ducks coach Randy Carlyle said. "We did a lot of things that we needed to. It's all about getting points right now. We understand the situation we're in. We're looking up at a few teams. We'd like to climb into that other group to give ourselves a chance."
"The whole team is playing really well defensively,: Hiller said. "Even if I have rebounds, we're clearing them. Everybody is fighting hard, blocking shots and doing everything back there. I hope we can keep it on ... We have another really important coming up tomorrow."
Source for Quotes:
ducks.nhl.com
PHOTO OF THE GAME:
ANAHEIM, CA - FEBRUARY 03: Kyle Chipchura #28 of the Anaheim Ducks celebrates his goal with teammates Todd Marchant #22, Steve Eminger #7 and Troy Bodie #50 for a 2-0 lead against the Detroit Red Wings during the first period at the Honda Center on February 3, 2010 in Anaheim, California. (Photo by Harry How/Getty Images)