codebase="http://active.macromedia.com/flash2/cabs/swflash.cab#version=4,0,0,0"
ID=onepiece-sj WIDTH=400 HEIGHT=533>


Graphic Credit: BuckyHermit @ duckscentral.net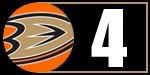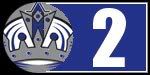 OPINION:
Finally the Ducks get to play the Kings after getting rest instead of on the tail end of back to backs. And FINALLY they beat them. The Kings were first to score, but the Ducks were the ones to score more often. They controlled most of the game even after taking the blow of losing Getzlaf in the early minutes of the 2nd period to an ankle sprain. Perry usually seems lost without Getzlaf around but tonight he stepped it up and handled the loss quite well. Hiller stood on his head in the 3rd period where the Kings tried their best to tie the game up but couldn't get any past a strong Hiller. Sometimes it's nice to be able to get payback so soon after a loss to the same team. Okay who am I fooling? Did I say sometimes? I meant it's always nice. And while LA was looking (hoping) for 10 in a row, the Ducks were also looking for 10 in a row at home. They got to bring LA's win streak to an end and continue their home game win streak. Now, if only they could figure out how to be so dominant on the road. Then we fans wouldn't be so worried about a playoff spot.
POST GAME QUOTES:
"When you're at home, you need to go out and make the place a war zone out there," said Corey Perry, who had a goal and two assists. "It should be hard place for the other team to come in and play."
"We didn't have a great game up there in L.A. the other night," Perry said. "We had a couple of days off. We rested and skated yesterday. We were full of energy and wanted to prove that we can play with top teams."
"We knew we had to play better than the last game," Hiller said, noting the four days without games after that loss in L.A. "We had a lot of energy. Those three days without a game were definitely good for us. We tried to put pressure on them and not let them get in the game."
"We know we have to win as many as possible," Hiller said. "For us right now, the goal is the playoffs."
Source for Quotes:
ducks.nhl.com
PHOTO OF THE GAME:
ANAHEIM, CA - FEBRUARY 08: Saku Koivu(notes) #11 and Teemu Selanne(notes) #8 of the Anaheim Ducks skate by the bench to celebrate Koivu's second period goal against the Los Angeles Kings during their NHL game at the Honda Center on February 8, 2010 in Anaheim, California. (Photo by Victor Decolongon/Getty Images)