codebase="http://active.macromedia.com/flash2/cabs/swflash.cab#version=4,0,0,0"
ID=onepiece-sj WIDTH=400 HEIGHT=533>


Graphic Credit: BuckyHermit @ duckscentral.net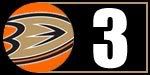 OPINION:
Olympic Hangover? Brain Fart? Too much time off from the NHL? No. A temporarily depleted defense I think is what caused this loss. The Ducks picked up a great defenseman from Edmonton, Visnovski, in exchange for Whitney (cue the hallelujah music). Unfortunately he was unable to arrive in time for the game, so the Ducks played 5 d-man and it didn't work out so well. They managed to blow their 2-0 lead and it is what it is. A loss. The first home loss since 2010 started. Bummer. Not how any Ducks fan expected to start the NHL back up after the two week hiatus.
POST GAME QUOTES:
"We played one period of hockey," said a disappointed Ducks coach Randy Caryle. "We didn't play very well after the first period. They turned it up. We stopped doing what we needed to do and started getting quick. We played too soft around the puck and some individuals had bad nights."
"We were skating and taking care of the puck in the first period," Niedermayer said. "In the second, they came at us different and we started to turn it over. It just all the sudden seemed to their way. It's disappointing when you come out like that and it comes out this way."
"Right now every game is important and the most important one was tonight," Hiller said. "It's tough. We were close .We had a 2-0 lead and gave the game away. We have 19 games left and still have a lot of chances. We have to believe and play better next game."
Source for Quotes:
ducks.nhl.com
PHOTO OF THE GAME:
ANAHEIM, CA - MARCH 03: Teemu Selanne(notes) #8 of the Anaheim Ducks fends off John-Michael Liles(notes) #4 of the Colorado Avalanche in the third period at the Honda Center on March 3, 2010 in Anaheim, California. The Avalanche defeated the Ducks 4-3. (Photo by Jeff Gross/Getty Images)