codebase="http://active.macromedia.com/flash2/cabs/swflash.cab#version=4,0,0,0"
ID=onepiece-sj WIDTH=400 HEIGHT=533>


Graphic Credit: BuckyHermit @ duckscentral.net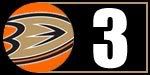 OPINION:
Yeah. No comment. *shakes head in disappointment*
POST GAME QUOTES:
"With the way we played early in the game, we should have been able to get these two points tonight," said Ducks captain Scott Niedermayer. "They just hung around and waited for a couple of mistakes. They took advantage of it."
"It was play where I thought Hillsy had it," said Niedermayer. "Then, once he goes to relax and thinks the play is over, it drops out. It's unfortunate, but obviously we shouldn't in that position either."
"I'm not happy with the outcome," said Saku Koivu, playing his first game against a Montreal team with which he spent his first 14 years in the league, 10 as team captain. "The way we came out in the first period, up 3-0, we were really confident that we could get the next goal and put the game away. They fought back and got two late goals. When you lose that way, it's pretty disappointing, even though we got the one point. Especially for myself, I've waited for this game for quite awhile. I'm happy it's done now, but I'm disappointed that we lost that point."
"It's pretty disappointing right now," Niedermayer said. "We just need to prepare and compete as hard as we can in the next game."
Added Koivu, "After a big win or loss, you just have to be able to re-group, forget the past and get ready for the next one. Where we're at in the standings right now and the points we need, we can't lose any extra points here. We have to be ready for the next one. These next two weeks are going to be critical for us."
Source for Quotes:
ducks.nhl.com
PHOTO OF THE GAME:
ANAHEIM, CA - MARCH 09: Lubomir Visnovsky(notes) #17 of the Anaheim Ducks looks on during warm-up prior to their NHL game against the Columbus Blue Jackets at the Honda Center on March 9, 2010 in Anaheim, California. (Photo by Victor Decolongon/Getty Images)