codebase="http://active.macromedia.com/flash2/cabs/swflash.cab#version=4,0,0,0"
ID=onepiece-sj WIDTH=400 HEIGHT=533>


Graphic Credit: BuckyHermit @ duckscentral.net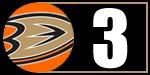 POST GAME QUOTES:
"It's incredible," Bonino said of the goal. "I'm happy I did at home and happy we got a win."
"When I get on this ice with Perry, Selanne, Niedermayer and Visnovsky out there, you really can't do any wrong," Bonino said. "The puck just bounced to me. I was in the right place at the right time."
"He said he stills remembers his first goal," Bonino said of Selanne. "I told him I'd probably remember this one as long as I'm playing and as long as I live too."
Said Selanne, "The first NHL goal is always so memorable. I'm very happy he got it. You can already see what kind of skills he has. He is so calm. What amazes me these days about rookies, they are so ready right away."
"It's been like this for a long time, chance after chance," Selanne said. "I really wanted to score, more so for Jari. He wanted to come here and see it happen. I was honored that he came. I'm so happy. It's a long way [from Kurri's home in Finland,] but we're good buddies."
Source for Quotes:
ducks.nhl.com
PHOTO OF THE GAME:
ANAHEIM, CA - MARCH 29: Nick Bonino (R) #63 of the Anaheim Ducks receives high fives from the bench after scoring his first NHL goal in the second period against the Dallas Stars at the Honda Center on March 29, 2010 in Anaheim, California. (Photo by Jeff Gross/Getty Images)