codebase="http://active.macromedia.com/flash2/cabs/swflash.cab#version=4,0,0,0"
ID=onepiece-sj WIDTH=400 HEIGHT=533>


Graphic Credit: BuckyHermit @ duckscentral.net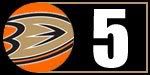 POST GAME QUOTES:
"Six hundred was bigger for me, but 601 is huge, too, because Jari was my idol. I feel very honored," said Selanne.
"The good thing for us is we're not even worried about who we're playing right now," Blake said. "We're just worried about ourselves. If we keep playing the way we're playing, and the goaltending has been great, it's giving us a chance every night."
"Obviously, that was a huge game for them, but at the same time, it was a game that for us, by winning, we still have a chance," said Koivu, who had a goal and three assists in the game. "There's still a couple teams between us and them, so it's going to be a battle to the end and we just have to keep pushing it and see what happens."
"Obviously, that was a big break for us and it took a little momentum from their side," Koivu said of the disallowed goal.
Source for Quotes:
ducks.nhl.com
PHOTO OF THE GAME:
Colorado Avalanche left winger TJ Galiardi(notes), left, has his shot stopped by Anaheim Ducks goalie Curtis McElhinney(notes) in the third period of the Ducks' 5-2 victory in an NHL hockey game in Denver on Wednesday, March 31, 2010.(Photo Credit: sports.yahoo.com)