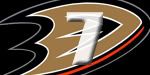 OPINION:
The game started off awesome, the Ducks went up 3-0 in the 1st and the thought was "smooth sailing", but every Ducks fan KNOWS there's no such thing as "smooth" sailing and the Blues came back into the game 3-2, after that the 3rd period arrived and basically all hell broke loose. We started to cream them again, and their mentality turned into "if you can't beat em, beat em up"... and having that mentality against the Ducks doesn't work very well. The Ducks know that strategy all too well, you see. In the end the score was 7 - 4. It was a spectacular game that included a Bobby Ryan hat trick, the 3rd of his career and 2nd of this season.
POST GAME QUOTES:
"It was a weird play," Ryan said [Of his 1st of 3 goals]. "It came off the cycle and I tried to push it low. Lupul made a great play through the slot area to find me. I had a lot of net to shoot it."
"I was in the right spot at the right time," Ryan said [Of his 2nd goal].
"He's a goal-scorer and he scored goal-scorer-type goals," coach Randy Carlyle said of Ryan. "It's nice to see that he's finally being rewarded in the last little while."
"We've realized that on a homestand you really need to come out and put your best foot forward," Ryan said. "The month of December was a little bit ugly. We've gone on streaks all year long. We need to come out at home, establish the forecheck and our identity."
GAME NOTES:
-The
Ducks
have won three straight games (3-0-0), six of their last seven (6-1-0) and have gone 11-5-1 overall in the last 17 contests.
-Over the last three games, the
Ducks
have outscored their opposition 14-4. Tonight also marked Anaheim's first seven-goal game since Apr. 11, 2010 vs. Edmonton (7-2).
-Ryan's 3-1=4 points tonight is a career high. He has a three-game goal (point) streak, scoring six goals (6-1=7) in that span. Ryan has reached the 20-goal plateau (21-14=35) for his third consecutive season.
-Jonas Hiller had his scoreless streak snapped at a career-high 178:34 minutes. The Ducks scored 10 straight goals during his scoreless streak. Hiller's scoreless streak was the 11th-longest since the lockout (start of 2005-06 season). Over the last three games, Hiller has gone 3-0-0 with a 1.33 GAA (4 GA/180 MIN) and .959 SV% (94-of-98). He also has a .956 SV% (219-of-229) and 1.43 GAA (10 GA/419 MIN) over the last seven games (6-1-0).
-With two assists tonight (0-2=2), Teemu Selanne now sits just one point shy of 1,300 points in his career (618-681=1,299 in 1,223 career games). He has 2-3=5 points in his last four games and 2-9=11 points in his last 10 games. Selanne's 1.05 points-per-game ranks 12th in the NHL. He is five years older than anyone else in the top 15 (TB's Martin St. Louis ranks fifth with 1.20 points-per-game and is 35 years old).
-Rookie Cam Fowler has 0-5=5 points in his last three games. His 0-2=2 points tonight marked his fourth career multi-point game. Fowler leads all NHL rookies in assists and ranks tied for fifth in points. He also leads all rookie defensemen in points.
Source for Quotes & Game Day Notes:
ducks.nhl.com
PHOTO OF THE GAME:
ANAHEIM, CA - JANUARY 12: Corey Perry #10 of the Anaheim Ducks stands amongst the hats following a hattrick by teammate Bobby Ryan #9 (not shown) against the St. Louis Blues at the Honda Center on January 12, 2011 in Anaheim, California. The Ducks defeated the Blues 7-4. (Photo by Bruce Bennett/Getty Images)