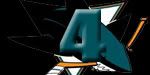 OPINION:
Well. 14 seconds was all it took. All it took to show Ducks fans that the Ducks thought they were still on break. Sorry Ducks, break is over. They figured that out by the 2nd period and almost fought back, but almost isn't good enough. A loss to another division rival and this one stings. It was enough for the Sharks to tie the Ducks in the standings while still having a game in hand. All we can do now is hope they lose that game in hand, and then lose some more, and hope the Ducks play just a smidge better and get back to winning.
It's no secret in Anaheim. The Ducks always, and I mean always, come out flat after the all-star break. They really don't do well with extended rest periods. Take last year's olympic break... it completely broke the momentum the Ducks were gaining and it resulted in an extended summer.
I always hate having to update the blog after a loss and it's not because I'm a sore loser. I actually try to employ Randy Carlyle's rule he has for his players. The 10 minute rule. I try to be over a loss within those 10 minutes and then focus on the next game, and then I come here and rehash the game and get upset all over again. Anywho... On to the next one...
POST GAME QUOTES:
"We were lethargic to start the game," Ryan said, "and going down 3-0 to a division rival is a tough hole to crawl out of."
Rookie Cam Fowler, who had a second period goal in the Ducks' comeback attempt, added, " I'm not sure if we were a little rusty after the break, but there are no excuses. We can't have a start like that, especially in our own building. I thought our guys did a good job of battling back, but unfortunately it just wasn't enough."
"When we scored there in the third, the whole momentum shifted," Ryan said. "We controlled the play for the better part of the third. They did a good job. They held onto a lead that they should have."
"We haven't played that type of hockey in a long time," said Ducks coach Randy Carlyle. "But those are the things that you have to deal with. We'll come to work tomorrow and prepare for the next one because we can't do anything about the one that just went by."
GAME NOTES:
- Koivu's assist on the Ducks 2nd goal gave him his 500th career assist.
Source for Quotes & Game Day Notes:
ducks.nhl.com
PHOTO OF THE GAME:
Anaheim Ducks right wing Joffrey Lupul(notes) celebrates his goal against the San Jose Sharks during the second period of an NHL hockey game in Anaheim, Calif., Wednesday, Feb. 2, 2011.(Photo Credit: Yahoo Sports)