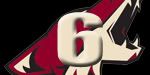 OPINION:
Ducks fans never know which team they're going to get. You would think it would be fairly simple being that it's really only one team, but these Ducks have a twin. An evil twin. Recently, we haven't seen this evil twin, but it came to play tonight in place of the good twin. Now back to reality. They played like they were hung-over. A complete 180 from the performance they gave against the Blues. I don't know what it is. It could be that they were on the road, their natural enemy this year. It couldn't be fatigue, there'd be no reason for it, Phoenix is a mere hour away by plane, so it's not jet lag. It was just uninspired hockey. The kind the Ducks evil twin likes to play.
POST GAME QUOTES:
"What I told the team is we weren't getting involved," Ducks head coach Randy Carlyle said. "We weren't offering all that much resistance."
"And the first line I juggled got scored on," Carlyle said. "It was just one of those nights. I don't have an explanation for it but we have to find one in a hurry."
GAME NOTES:
Anaheim outscored its opponents 14-4 in the three games before Saturday. ... Phoenix RW Radim Vrbata had two assists to give him 300 points in his career. Coyotes C Vernon Fiddler went to the dressing room after a fight with Beleskey less than 2 minutes into the third. Yandle slashed Perry across the right hand in front of the Phoenix net, and Perry responded moments later by shoving Yandle to the ice immediately before Fiddler and Beleskey squared off. ... Yandle took stitches to his left eye after being high-sticked by Selanne in the first period.
Source for Quotes & Game Day Notes:
ducks.nhl.com
PHOTO OF THE GAME:
GLENDALE, AZ - JANUARY 15: (L-R) Cam Fowler #4, Bobby Ryan #9, Andreas Lilja #3 and Matt Beleskey #39 of the Anaheim Ducks celebrate after Beleskey scored a first period goal against the Phoenix Coyotes during the NHL game at Jobing.com Arena on January 15, 2011 in Glendale, Arizona. (Photo by Christian Petersen/Getty Images)