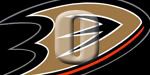 OPINION:
At the beginning of this game I thought I might have made a wrong turn somewhere on the way to the arena and ended up in Detroit, but apparently, I actually was in Anaheim. There's a few things in hockey that can really piss a fan off such as - the rival fans, being shutout, being outnumbered in your own building- and all of the above applied tonight. Outnumbered being the thing that hurt the most. Not so much for me, but I can't help but get upset about it because I'm sure it doesn't make our players feel very good. I mean, hearing "Let's Go Wings!" being chanted when you're playing at home? It can't feel too good.
And things that feel worse are being shutout, so, once again, the players don't feel too good because they didn't give THEIR fans something to cheer about in THEIR fans home building. Both sides of Duck coin lose tonight. The fans - for being outnumbered. The players - for playing a crummy game and getting shutout. Lose/Lose.
POST GAME QUOTES:
"It is frustrating," said a quiet Corey Perry afterward. "We battled hard tonight, but we just couldn't find a way to get the puck past Howard. It was just one of those nights where things just didn't go our way."
"We did a lot of good things in the hockey game," said coach Randy Carlyle. "We controlled a lot of the play. We weren't able to find a way to score a goal." (side note: Only THE most important part of a game, Randy)
"I didn't actually see the puck," Hiller said. "I tried to get back to the post and I couldn't see it. It was a bad turnover in our zone that led to the whole thing. It's tough to be down that early in the game, especially against a team that plays such solid defense as Detroit does."
"We had a couple of turnovers, a couple of mental lapses there and we're down 2-0," Perry said. "They got the third one at the end of the period that was heartbreaker."
"If we play as hard as we did tonight in every game this year and be as effective on our forecheck for stretches of the game, we'll be alright," Carlyle said.
Source for Quotes:
ducks.nhl.com
PHOTO OF THE GAME:
Anaheim Ducks goalie Jonas Hiller, right, of Switzerland, makes a glove-save as Detroit Red Wings left wing Tomas Holmstrom, of Sweden, looks on during the second period of an NHL hockey game in Anaheim, Calif., Friday, Dec. 3, 2010.(Photo Credit: Yahoo! Sports)