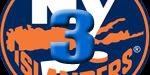 OPINION:
What is there to say when you lose to the Islanders? I'm pretty speechless right now, along with embarrassed.
Third time this year the Ducks have lost to the worst team in the NHL. Maybe they'll learn to stop underestimating their opponent? Or maybe not.
Also pretty amusing (in the I'm not so amused, way) is it took all of 99 seconds for the Islanders to win the game. 3 goals, in 99 seconds to be exact. And it was only their 2nd win in a span of 22 games. Tell me you're not embarrassed....
POST GAME QUOTES:
"Tonight, things were tough around here," Blake said. "We have to forget about it and move on."
Source for Quotes:
ducks.nhl.com
PHOTO OF THE GAME:
UNIONDALE, NY - DECEMBER 16: The Anaheim Ducks sit on the bench during a time out as an ice girls cleans the ice during the game against the New York Islanders at the Nassau Coliseum on December 16, 2010 in Uniondale, New York. The Islanders defeated the Ducks 3-2. (Photo by Bruce Bennett/Getty Images)