codebase="http://active.macromedia.com/flash2/cabs/swflash.cab#version=4,0,0,0"
ID=onepiece-sj WIDTH=400 HEIGHT=533>


Graphic Credit: BuckyHermit @ duckscentral.net
PERIOD 1:
1 - 2
PERIOD 2:
4 - 2
PERIOD 3:
7 - 2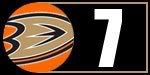 OPINION:
This game probably had most Ducks fans fooled only 5 minutes into the game. In those 5 minutes the Canucks had already tallied 2 goals and most likely had the orange and gold jersey wearing fans doing some face palms and groans. "It's going to be another one of THOSE nights, again" was my reaction. However, the Ducks players didn't feel that way because they cut the lead in half towards the end of the 1st, and never looked back after that. A total of 7 goals were racked up tonight in favor of the Ducks. George Parros (1), Mike Brown (1), Bobby Ryan (2), and Corey Perry (2) each tallied a goal. Most surprising though, was one credited to Lupul near the end of the game. The puck took a wicked bounce off the boards and shocked everyone when it found its way into the net. So while the first 5 minutes of the game drew a ton of eye rolls and "oh crap"s, it was all Ducks after those 5 minutes.
POST GAME QUOTES:
"There is a collective sigh of relief, that is for sure," Ryan said. "A lot of games we've gotten down and then we've gotten out. Tonight, we just found a way to stick with it and battle through. We did the things that we need to do to score goals and it was a nice night for it. Guys came out and answered the bell when we needed it."
"They got a two-goal lead on us and we were wondering what the heck was going on," said Ducks coach Randy Carlyle. "We stayed with it. We changed our mindset, got better going through the neutral ice and recovered more pucks on the dumps."
"It was a good line goal," Parros said. "Mike Brown got in hard on the forecheck. I followed up with a hit, causing the puck to get to Carter. He just put it to the net, the puck bounced to my stick and I was able to put it in."
"Any time that your energy line can make a contribution on the offensive side plus play their normal energy game, it's a huge boost for your group" Carlyle said. "They played with energy most of the night. They were our best line early in staying with the structure that we're trying to create."
"The most important thing for our mental psyche going forward," Carlyle said, "is it's a starting point for our group."
Source for Quotes:
ducks.nhl.com
PHOTO OF THE GAME:
ANAHEIM, CA - OCTOBER 30: Bobby Ryan #9 of the Anaheim Ducks celebrates his goal with the bench against the Vancouver Canucks during the third period at the Honda Center on October 30, 2009 in Anaheim, California. (Photo by Harry How/Getty Images)