codebase="http://active.macromedia.com/flash2/cabs/swflash.cab#version=4,0,0,0"
ID=onepiece-sj WIDTH=400 HEIGHT=533>


Graphic Credit: BuckyHermit @ duckscentral.net
PERIOD 1:
2 - 0
PERIOD 2:
3 - 1
PERIOD 3:
3 - 2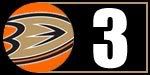 POST GAME QUOTES:
"We know what kind of player [Perry] is," said Ducks coach Randy Carlyle. "We've been around him enough to understand that he's a goal-scorer and he can score some big goals for your hockey club. He's done that and it's good to see he's been rewarded with a good start."
"We haven't come out in a first period all season," Perry said. "It's a must, especially in our own building."
"We can be quite proud with the way we played tonight, especially coming back from the road," said Hiller, who had 32 stops on the night. "It's never easy. Everybody showed, especially in the first period, that we were ready. We didn't back off too much in the third. We controlled the game most of the time. That is the way we have to play."
"Coming off the road, we're going to rest our bodies, rejuvenate and be ready," said Perry. "This is our home rink. It is where we want to get our wins. We want to own this building. If we play like we did tonight, we're going to be alright."
Source for Quotes:
ducks.nhl.com
PHOTO OF THE GAME:
ANAHEIM, CA - OCTOBER 14: Corey Perry #10 of the Anaheim Ducks looks for a rebound in front of Greg Zanon #6 and Niklas Backstrom #32 of the Minnesota Wild during the first period at the Honda Center on October 14, 2009 in Anaheim, California. (Photo by Harry How/Getty Images)