codebase="http://active.macromedia.com/flash2/cabs/swflash.cab#version=4,0,0,0"
ID=onepiece-sj WIDTH=400 HEIGHT=533>


Graphic Credit: BuckyHermit @ duckscentral.net
PERIOD 1:
0 - 0
PERIOD 2:
3 - 0
PERIOD 3:
3 - 3
OVERTIME:
3 - 4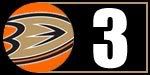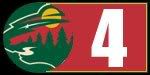 POST GAME QUOTES:
"We didn't play well enough to win," Ducks coach Randy Carlyle said. "Simple as that. It's a 60-minute game. We played 50 minutes."
"It was stupid," Wisniewski said in the locker room afterward. "Selfish penalty. It maybe cost us a chance for us to come back and win the game."
"That's the difference," [Carlyle] said. "We reacted and it was the wrong reaction at the wrong time. Critical point in the game."
Source for Quotes:
Adam Brady's Official Ducks Blog @ ducks.nhl.com
PHOTO OF THE GAME:
John Scott #36 of the Minnesota Wild and George Parros #16 of the Anaheim Ducks fight during the game at the Xcel Energy Center on Otober 6, 2009 in Saint Paul, Minnesota. (Photo by Andy King/NHLI via Getty Images)