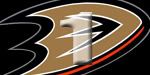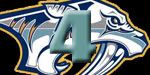 OPINION:
It's going to be a long season folks! Enjoy....
POST GAME QUOTES:
"It's tough to play from behind all the time but we're at game two right now and we're a learning team," Ducks captain Ryan Getzlaf said. "We've got to take things out of tonight and go forward with it."It's a matter of learning from your mistakes and moving on."
"I think we hit four crossbars tonight," Ducks coach Randy Carlyle said. "It was like anything we were directing at the net was finding a way to either hit their goaltender and him make the stop or we rang it off the post or the crossbar a couple of times.
"It seems that was the difference. When we had our chances, we just didn't bury them."
Source for Quotes:
OC Register
PHOTO OF THE GAME:
NASHVILLE, TN - OCTOBER 09: Marcel Go #9 of the Nashville Predators celebrates after scoring a goal against Jonas Hiller #1 of the Anaheim Ducks on October 9, 2010 in Nashville, Tennessee. (Photo by Frederick Breedon/Getty Images)