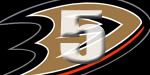 OPINION:
If we cut out the 1st period, this was a solid game for the Ducks. I don't know what the 1st period was, but we'll forget it happened. Whatever was said in the locker room during 1st intermission worked because they came out for the 2nd and 3rd a completely different team than the one that came out in the 1st.
Bobby Ryan netted 2 goals and everyone watching was just waiting for the hat trick. It didn't happen, but we did get to see Parros score on a break away! I think if you saw that mustache darting toward you, you'd let the goal in too. Also, Teemu netted 1 to get his 800th career point as a Duck, and Perry added to the total when Dallas had a little brain fart forgetting to have somebody in the penalty box to serve Robidas' major penalty for a boarding hit he nailed Beleskey with. (Later reported that Beleskey is fine, after he left the ice looking a little more than woozy).
Great game, and the Ducks get to head home for Friday's match against the New Jersey Devils, who have been having the same kind of rough start the Ducks have been dealing with. And a great win to put the heartbreaking loss to the Wings three days ago into the distant memory bank.
(PS; Ducks scored 5 goals tonight, head over to
ducks.nhl.com
to get your coupon for FREE Hooters wings! Valid for 24 hours.)
POST GAME QUOTES:
"I've met (Hull) many times, and I never imagined I'd score more goals than him," said the 40-year-old Selanne, who also had an assist to give him 801 points with the Ducks. "It's unbelievable, when you look back at your career, the numbers. Good things happen when you play long. When I read my name in the same story with Bobby Hull or somebody else, it's a big compliment. I'm thankful for all these years."
Selanne said he was aware of NHL greats when he was a kid learning the game in Finland. "Automatic, you know those names," Selanne said. "I used to have Guy Lafleur skates."
"It got us started," Ryan said of his first goal. "It's a morale boost. You're sitting around and feeling sorry for yourself, that kind of turns the tide."
"At times he (Ryan) looked like the best player on the ice," Carlyle said. "He was skating and when he does that, he's a dynamic player."
Source for Quotes:
ducks.nhl.com
PHOTO OF THE GAME:
Anaheim Ducks right winger George Parros takes a shot during the second period of an NHL hockey game against the Dallas Stars in Dallas, Tuesday, Oct. 26, 2010. Parros scored on the shot. Photo Credit: Yahoo Sports