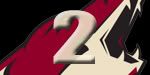 OPINION:
This was a good game. High energy, do what it takes to win, win. On that note, I'd like to point out Shane Doan. I'll refrain from calling him the names I'd like to call him here and keep it PG at PUNK. Minutes after Cam Fowler scored his first NHL goal, he was a goal line away (literally, it landed right on the goal line) from scoring his second. And that's when Shane thought it'd be a good idea to pummel the kid face first into the boards. Cam left the game and never returned, with a broken nose, two black eyes, and a neck strain. Thanks Shane.
Not too far along into the game after that happened, Shane attacked again. This time he decided a blindside hit to Dan Sexton would be ok. Well news flash, Shane. That's the exact play the NHL said it would be cracking down on this season, and you sir get to sit out for 3 games. Don't like it? Tough. You did it. You're extremely lucky Sexton wasn't injured with that reckless play of yours.
In spite of Shane Doan, the Ducks pulled off the win, 3 to 2. Not without trying to show their fans, once again, that the 2 goal lead is dangerous. That one is for you, Cam. Get well soon, we need you!
POST GAME QUOTES:
"Bobby made a great play in the defensive zone," Perry said. "He battled for the puck and made a great play to get it to Getzy. The two of us were just trying to get to the net as fast as we could. Getzy found a way to get it through and I got a stick on it."
"We did a lot of good things in the game to give ourselves a two-goal lead, but we can't slip in the third period like that," said coach Randy Carlyle. "I don't have cuticles left, so that is the way it went. It got to a hairy point there. The bottom line is we won the hockey game."
"If you just check my stats from previous years, I haven't been doing that too much," said Lydman of his first career goal streak. "It's nice to put a couple in there. Especially when we win, it feels so much better."
"It was huge to get back in the win column and have that feeling going on the road," Perry said. "We know we can win in crucial times. We showed it tonight. We found a way to win. That is how we have to play."
Source for Quotes:
ducks.nhl.com
PHOTO OF THE GAME:
ANAHEIM, CA - OCTOBER 17: Cam Fowler #54 of the Anaheim Ducks leaves the ice with an injury alongside Paul Mara #23 the Phoenix Coyotes during the second period at the Honda Center on October 17, 2010 in Anaheim, California. (Photo by Harry How/Getty Images)