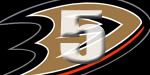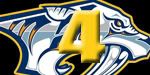 OPINION:
It wasn't the prettiest of wins, but it's a win! And with only 1.7 seconds to spare, the Ducks basically swiped that almost free point right out from the noses of the Predators (Much like some shenanegan a Datsyuk fellow pulled on the Ducks a couple weeks ago, only much cooler and with a better result). Bobby Ryan directed a pass straight to Paul Mara who took on the role of sniper and snapped the puck in the back of the net like it was no big deal, and Honda Center went NUTS. Grumbles were all around before this play with the likes of "why can't they just hold a lead" or "overtime, again". People preparing themselves for an overtime period, when this beautiful play unfolded. I am sick right now, and spend most of the game frustrated that I had no voice to cheer for, and yell at, the Ducks. With that game winning goal I hollered as loud as I possibly could! Now I really have no voice. I'll take it though, that was worth it. Thank you, Ducks!
Before I forget to give out my Kudos to Selanne and Koivu, here it is! KUDOS YOU FINNISH DUO! Selanne is hot lately and Koivu is right behind him (2 goals tonight, for his 700th career point!) Not too shabby, boys! Don't look now, but the Ducks are on a winning streak! And have fought their way to .500. Awesome!
POST GAME QUOTES:
"Two points is two points," Carlyle said. "We're not going to lament any other part of it. It was one of those games that seemed like we had to work for every inch. Every time we got a lead, they came back. We sure kept the fans in the building."
"I knew going out we didn't have a whole lot of time," Ryan said. "It worked out for the best. Paul made a great play jumping in with a nice finish. The defenseman was trying to cut across and just got a piece of it, maybe a little too much. It came right to me. Everything came just the way we needed to there."
Added Mara, "I looked up at the clock and I saw there were eight or nine seconds left. Bobby got it and I just kept jumping to the net. It was bouncing right there and I just put it into an empty net. It was a great play by those guys. I was just in the right place at the right time."
"It was an ugly game, certainly not one we want to put in the archives, that's for sure." Ryan said. "We have to do a better job in front of Hillsy [goalie Jonas Hiller] and a better job managing the puck through the neutral zone. It's something we'll focus on."
Source for Quotes:
ducks.nhl.com
PHOTO OF THE GAME:
Anaheim Ducks players Ryan Getzlaf(notes) and Bobby Ryan(notes) celebrate after Paul Mara(notes), center, scored the winning goal against the Nashville Predators in their NHL hockey game in Anaheim, Calif., on Sunday, Nov. 7, 2010. ( AP Photo/Christine Cotter)