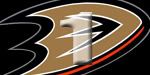 OPINION:
Just like all good "undefeated in regulation" streaks, it had to come to an end sooner or later. Would have preferred "later" but oh well. Time to make a new streak. If the Ducks had buried their chances, the outcome would be different. I counted 4 solid opportunities in the 1st period alone (Selanne, Marchant (breakaway), Carter, and Bobby) all should have had a goal in the 1st. But should, woulda, coulda doesn't win games. Unfortunately.
And I'm not usually one to pick on the refs. It takes special games to get me fired up against the refs. One of those is tonight. I'm not going to go into too much of a rant about it, because we've all heard it before and I hate being the stereotypical Ducks fan whining about the ref, but damn! THREE times the Stars could have been called for too many men, alone. The missed tripping call at the end of the game could have helped too. They were really letting the Stars get away with bloody hell out there in terms of penalties.
On to the next one.
POST GAME QUOTES:
"We had our fair share of chances," Ducks coach Randy Carlyle said. "It wasn't like we were devoid of chances, we came up empty. Even more-so, we had lots of good chances on our power play, too. ... We're just not really sharp offensively. We got to think 'shoot more,' be a little more selfish."
Source for Quotes:
ducks.nhl.com
PHOTO OF THE GAME:
Dallas Stars right wing Krys Barch, right, lands a punch to the head of Anaheim Ducks right wing George Parros, left, in the second period of an NHL hockey game Tuesday, Nov. 16, 2010, in Dallas. (Photo Credit: Yahoo Sports )