codebase="http://active.macromedia.com/flash2/cabs/swflash.cab#version=4,0,0,0"
ID=onepiece-sj WIDTH=400 HEIGHT=533>


Graphic Credit: BuckyHermit @ duckscentral.net
PERIOD 1:
1 - 0
PERIOD 2:
3 - 0
PERIOD 3:
4 - 3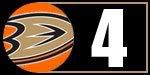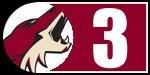 OPINION:
For most of the game the Ducks held their own. Most being the key word. Going into the third period I think most Ducks fans were thinking "hey, Hiller is moving towards his second shutout in a row, wouldn't that be great" and then into the third that turned into "Holy crap! What's going on here? Please don't have a Minnesota Wild (See Game 3 of the season) repeat." Getzlaf happened to make a huge error by passing directly to another player. It was a great pass, mind you, it was to the wrong team. That pass resulted in a goal, and that goal resulted in a breakdown by the Ducks and a surge for the Coyotes who went on to score two more goals to make the game interesting at 4-3. A far cry from what the game was in the first two periods. The good news is the Ducks had JUST enough of a cushion in goals to squeak past the Coyotes for the 4-3 win.
POST GAME QUOTES:
"Considering how the last few weeks have gone here, it's good to come out with a couple of wins here at home," said Ducks captain Scott Niedermayer. "Home ice is important and you want to take advantage of it. We haven't been able to do that, but the last two we have. We're heading in the right direction right now."
"You have to give [Phoenix] credit," said Ducks coach Randy Carlyle. "They did not go away."
"Some of our losses earlier in the season were bad bounces," said James Wisniewski, who returned after serving a two-game suspension for a hit in that last game in Phoenix "I don't think we played all that poorly, but sometimes if you don't get the right breaks at the right time, then you're not going to win games. Now, with our hard work, dedication and the way we're playing by keeping it simple, getting pucks in deep and grinding it out, breaks are coming out way."
"In the middle of the third period, we went out and gave them life," said Ducks coach Randy Carlyle. "It was almost like we stood around and watched them skate. That is what happens in these games. The momentum swings back and forth. You can't critique a win. We won the hockey game. We'll take the two points and move on."
"We want to get on this road trip now and continue to get better," Niedermayer said. "We are playing better hockey and that is why we're getting some results now. We have to continue to build on it."
Added Wisniewski, "It's perfect with us getting two wins in a row at home, where we were struggling. It was surprising because we were at home for such a long time. Now, we go on a tough road trip with four games in six days. It might be a good thing for us because of how well we're playing. We'll see what we can do."
Source for Quotes:
ducks.nhl.com
PHOTO OF THE GAME:
Anaheim Ducks right wing Corey Perry scores a goal against Phoenix Coyotes goalie Ilya Bryzgalov, of Russia, in the second period of an NHL hockey game in Anaheim, Calif., Saturday, Nov. 7, 2009. (Source:
Yahoo Sports
)