codebase="http://active.macromedia.com/flash2/cabs/swflash.cab#version=4,0,0,0"
ID=onepiece-sj WIDTH=400 HEIGHT=533>


Graphic Credit: BuckyHermit @ duckscentral.net
Note: There doesn't appear to be any TV coverage of this game at all. Sorry folks.PERIOD 1:
0 - 0
PERIOD 2:
1 - 0
PERIOD 3:
2 - 2
OVERTIME:
2 - 3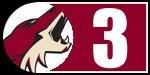 OPINION:
This was a tight game for most of it. Ducks had an uncomfortable 1 goal lead going into the 3rd period where Phoenix managed 2 goals. With under 2 minutes to go in the game Bobby Ryan tapped in a goal from a slapshot coming from Boynton. Perry was there for the assist so he took part in setting the new franchise record of an 18 game point streak. Just in time! I happen to not be a huge fan of 3 point games and even though the Ducks benefitted from it tonight, I still don't like them. Honestly I don't think the losing team should gain a point. It's kind of like passing a student with a D even though they should have an F. Just my two cents. I'll take the point happily, of course, since that's the way the game works and so be it.
POST GAME QUOTES:
"It's important to focus on the positives," Giguere said. "We found a way to get a point at the end in the last two minutes, so we should be happy about that. The game didn't go exactly the way we wanted. We know what we did wrong and what we did well."
"We got ahead and stopped skating in the third," Ryan said. "They dominated the third period. Jiggy made a lot of saves early that you think would depress them at some point and get under their skin, but it didn't. They just kept hanging around."
"We didn't move our feet as much as we wanted to," Giguere added. "The whole key to our game is getting our legs going. A team that is down 1-0 in the third is going to skate. You have to match their intensity. We didn't do that and let them come. They managed a way to score a couple of goals. We can't do that and have to learn from that. "
"You know their team is going to have a push," Carlyle said. "Similar to the last couple of games, to start of the third period, we were not skating. We were standing around, standing still and trying to make plays. The opposition is putting a push on. Our reaction to it is we haven't had enough strong plays to move around that pressure."
Source for Quotes:
ducks.nhl.com
PHOTO OF THE GAME:
ANAHEIM, CA - NOVEMBER 29: (L-R) Ryan Getlaf #15, Corey Perry #10 and Scott Niedermayer #27 of the Anaheim Ducks celebrate a goal by Nick Boynton (not pictured) in the third period against the Phoenix Coyotes at the Honda Center on November 29, 2009 in Anaheim, California. The Coyotes defeated the Ducks 3-2 in overtime. (Photo by Jeff Gross/Getty Images)