codebase="http://active.macromedia.com/flash2/cabs/swflash.cab#version=4,0,0,0"
ID=onepiece-sj WIDTH=400 HEIGHT=533>


Graphic Credit: BuckyHermit @ duckscentral.net
PERIOD 1:
2 - 2
PERIOD 2:
2 - 2
PERIOD 3:
3 - 3
OVERTIME:
3 - 3
SHOOTOUT:
3 - 4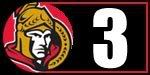 OPINION:
Still not a fan of the 3 point games but if it's the only way the Ducks are going to "earn" points this season-- no wait, yeah, I hate 3 point games. Ottawa would be first to strike tonight and the Ducks quickly answered. In fact, every goal Ottawa would score the Ducks would quickly answer, but the Ducks would never have a lead. That brought them to the shootout and in an interesting twist, Getzlaf (Yes, Getzlaf!) would be the only Duck to score while Alfredsson and Kovalev would score for Ottawa securing them the 2 points. *sigh* Another loss. Even if a point was gained, it still stings. Up next: Dallas.
POST GAME QUOTES:
"We had a good game and some good chances," said Ducks goalie Jean-Sebastien Giguere. "I like the fact that every time they scored, we stood up and answered back right away. There are more positives than negatives."
"It's hard to stay positive some times when things are not going your way," Giguere said. "The reality is we're not that far off. We're right there. It's a turnover here, a bad goal here, one play in one game that makes a difference. We just have to make them go our way."
"The shootout can go either way," Perry said. "It's a tough thing. If you win, it's an extra point, but if you lose you don't gain that point. We have to come back, be ready for tomorrow's practice and be ready for Tuesday."
"It's desperation for us right now," Perry said of a Ducks team that plays Tuesday at home against Dallas before heading out for four straight on the road. "We're at the 30-game mark. We have to put something together and go on a run here
or we're going to be out of it pretty soon
. Everybody has to come together and be a team in here. That is how we have to play."
Added Ducks coach Randy Carlyle, "It's tough on everybody. You can't live and die by every thing that goes against you. That is what the frustrating part is for your group. We battled back, had chances and then we don't get it done in the shootout. We had our opportunities in the hockey game and didn't get the job done. We lost a point in the shootout. These are the tough ones when you have to pick the group back up tomorrow morning and get ready for Dallas."
Source for Quotes:
ducks.nhl.com
PHOTO OF THE GAME:
Ottawa Senators defenseman Filip Kuba, left, of Czech Republic, steals the puck from Anaheim Ducks right wing Joffrey Lupul during the second period. (PHOTO CREDIT: Yahoo Sports)