codebase="http://active.macromedia.com/flash2/cabs/swflash.cab#version=4,0,0,0"
ID=onepiece-sj WIDTH=400 HEIGHT=533>


Graphic Credit: BuckyHermit @ duckscentral.net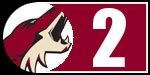 OPINION:
The Coyotes came into Honda Center with an 8-1-1 in their previous ten games record.... They left 8-2-1. The Ducks put out a fairly solid effort and came away with the win. The 3rd was actually closer than the 4-2 score indicates. For a while there it was 3-2 and Phoenix had a ton of opportunities to tie it up. Bobby Ryan ended up getting a late one with a late power play to seal the deal at 4-2. Gave Ducks fans 19 seconds to breathe and enjoy the win. And enjoy it we will because the Ducks have now worked their way out of the Western Conference basement and into 12th place. It's not a standings place that Ducks fans had in mind going into the season, but it's a hell of a lot better than the basement spot of 15. Soak it in.
POST GAME QUOTES:
"We're going to be going out there with energy and anything we get is a bonus," Mike Brown said of his line. "We are going to play that hard game. All we do is pretty much get the puck to the net and crash the net. That is how we have to play."
"Our goalie gave us a chance, obviously," Ducks coach Randy Carlyle said. "Jonas stood tall in the hockey game for us, specifically in the penalty killing situations. The first period we were slapping the puck around and were flat. That is what you need, your goalie to pitch you a shutout for a period or so and then you get your feet underneath you."
"Around the net, I felt like I was rushing, panicking and forcing things," Chipchura said. "After getting one like that, it helps you relax. Beleskey raced their guy and made a little spin to me. I don't know how I ended up being that alone in front of the net. I got it and tried to get it off quick."
Source for Quotes:
ducks.nhl.com
PHOTO OF THE GAME:
ANAHEIM, CA - DECEMBER 19: Bobby Ryan #9 of the Anaheim Ducks reacts after his third period goal against the Phoenix Coyotes during the NHL game at the Honda Center on December 19, 2009 in Anaheim, California. The Ducks defeated the Coyotes 4-2. (Photo by Victor Decolongon/Getty Images)