codebase="http://active.macromedia.com/flash2/cabs/swflash.cab#version=4,0,0,0"
ID=onepiece-sj WIDTH=400 HEIGHT=533>


Graphic Credit: BuckyHermit @ duckscentral.net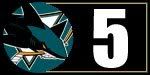 OPINION:
All I can do is shake my head at this one...
Oh, and FYI -- Getzlaf left the game with a minor leg laceration. He was getting stitches and did not return to the game. He is considered day-to-day. Thanks, injury bug. :/
POST GAME QUOTES:
Can't find any at the moment. Will update if/when some become available.
PHOTO OF THE GAME:
San Jose Sharks center Joe Thornton, right, is checked into the boards by Anaheim Ducks defenseman Scott Niedermayer, left, during the third period of an NHL hockey game, Saturday, Dec. 26, 2009, in San Jose, Calif. San Jose won 5-2. Photo Credit: Yahoo Sports