codebase="http://active.macromedia.com/flash2/cabs/swflash.cab#version=4,0,0,0"
ID=onepiece-sj WIDTH=400 HEIGHT=533>


Graphic Credit: BuckyHermit @ duckscentral.net
PERIOD 1:
1 - 0
PERIOD 2:
2 - 1
PERIOD 3:
3 - 1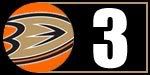 OPINION:
I'm not quite sure if the Blue Jackets looking flat had to do with them not putting out a full effort, or if they looked flat because the Ducks made them look flat but in either scenerio I will take it. Ducks had the upper hand of this game for most of the game. There were a few spots where the Blue Jackets put on some pressure, but for the most part, this one was pretty good for the Ducks.
Ever since he has been called up due to Teemu's injury, this rookie has impressed the world of Ducks fans time and time again. I'm talking about Dan Sexton. He had another goal tonight (the first one of the night) which gives him his 4th since being called up...his 4th of all time. He's proving to be pretty damn consistent. Each and every night he goes out and plays his heart out and does whatever he can to put the puck in the net. His linemate Bobby Ryan has been a huge factor in this as well. The line of Koivu-Sexton-Ryan has been superb so far. They're really getting things done, and it's nice to have some secondary scoring.
In the third period I think many Ducks fans were hoping they wouldn't lose their lead, as they typically like to do. And they didn't. Instead, they opted for the other option of adding to their lead. Corey Perry slammed one into the net on a power play and sealed the deal of the game. Ducks win 3 to 1.
Which happens to be their 1st road win since October 11th...
POST GAME QUOTES:
"If you would have told me by the end of the weekend I would have accomplished what I have ... I'd have a pretty hard time believing it," said Sexton, an undrafted free agent who played college hockey just a couple of hours away at Bowling Green."I just wanted to come in and play my hardest and contribute. But, to get some good bounces and play with some great players, contribute the way I have, it has been a special week for sure."
"We tried to take on the attitude that we were going to build off of last night's third period," Ducks coach Randy Carlyle said. "We couldn't let that type of thing happen to our hockey club tonight."
"(Killing) that 5-on-3 was huge for us," Perry said. "If we killed that off, we were in a great situation. Then we get the power play right after that, get the goal. It was a great pass from Whit. I just got enough wood on it."
"We had a great chance last night to win the game but we gave it away in the third," said Hiller, who watched Jean-Sebastien Giguere in goal against the Red Wings. "We were able to keep going in the third (tonight) and didn't get any goals against. That was huge. Also, for the confidence of the team."
"Playing back-to-back games on the road is life in the NHL," Carlyle said. "We're not really proud of our road record (3-5-5) yet. Those things are all things that you use to motivate people. In the end the players laid it on the line. Was it a perfect road game? No. But we did what we had to do to win the hockey game."
Source for Quotes:
ducks.nhl.com
PHOTO OF THE GAME:
Anaheim Ducks' Dan Sexton (42) scores a goal past Columbus Blue Jackets goalie Steve Mason (1) during the first period of an NHL hockey game Saturday, Dec. 12, 2009, in Columbus, Ohio. Anaheim's Bobby Ryan (9) looks on. (PHOTO CREDIT: Yahoo Sports)