codebase="http://active.macromedia.com/flash2/cabs/swflash.cab#version=4,0,0,0"
ID=onepiece-sj WIDTH=400 HEIGHT=533>


Graphic Credit: BuckyHermit @ duckscentral.net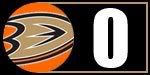 OPINION:
So last night's game a miracle happened and instead of getting shutout the Ducks made a huge comeback to win. Not tonight. Tonight they just took in the shutout instead. They looked tired, slow, there was too much standing around, and honestly, I'd just rather not talk about it. Roller coaster of a season....
POST GAME QUOTES:
"This is the hand we were dealt and we have to be better," Ducks captain Scott Niedermayer said. "They played extremely well and we couldn't match it."
"I thought as poorly as we played it should have been a 1-0 hockey game going into the third period," Ducks coach Randy Carlyle said. "I'm not dumping on the goalie and saying it's his fault. We didn't have a lot going. But we have to have those saves made in those situations."
"I definitely think I can play better," Hiller said. "I'm sure it was a matter of back-to-back games. We had another game last night but that can't be an excuse."
Source for Quotes:
ducks.nhl.com
PHOTO OF THE GAME:
GLENDALE, AZ - DECEMBER 23: Head coach Randy Carlyle of the Anaheim Ducks looks on from the bench during the NHL game against the Phoenix Coyotes at Jobing.com Arena on December 23, 2009 in Glendale, Arizona. The Coyotes defeated the Ducks 4-0. (Photo by Christian Petersen/Getty Images)