codebase="http://active.macromedia.com/flash2/cabs/swflash.cab#version=4,0,0,0"
ID=onepiece-sj WIDTH=400 HEIGHT=533>


Graphic Credit: BuckyHermit @ duckscentral.net
PERIOD 1:
1 - 1
PERIOD 2:
2 - 1
PERIOD 3:
3 - 2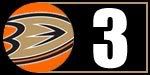 OPINION:
I don't have a huge opinion on this game because I didn't SEE most of it. I was listening to it while trying to finish up my final project for one of my classes so I was a wee bit distracted. From what I could gather the Ducks had a strong first and second period. In the 3rd they were on their heels for a bit but Koivu knocked in the game winner and the win was ours! And thankfully without a stupid 3-point game. 2 solid points and a goose egg (points wise) for Vancouver. Just the way I like it.
POST GAME QUOTES:
"In this situation we're in right now, every win is important," said Ducks goalie Jonas Hiller, who made 28 saves and came up big late. "We need to be able to win on the road especially."
"I think we were able to get some good work behind their net there," Koivu said. "I thought the defense was a little bit too aggressive. And then Sexton made a great play across the ice to Calder. "I don't know how he saw me on the back door there. And from there it was a fairly easy tap-in for me to get that goal."
"It's Teemu who?" Ducks coach Randy Carlyle cracked, talking about Sexton. "That's what I said to him the other day in practice. "If you saw the play on the power play, our big unit didn't really get much going and we got kind of frustrated on the bench. And they went out and delivered."
Source for Quotes:
OC Register
PHOTO OF THE GAME:
Vancouver Canucks' Ryan Kesler, left, skates away as Anaheim Ducks, from left, Saku Koivu, of Finland, Dan Sexton and Bobby Ryan celebrate Ryan's goal during the first period of an NHL hockey game in Vancouver on Wednesday, Dec. 16, 2009.(PHOTO CREDIT: Yahoo Sports)