codebase="http://active.macromedia.com/flash2/cabs/swflash.cab#version=4,0,0,0"
ID=onepiece-sj WIDTH=400 HEIGHT=533>


Graphic Credit: BuckyHermit @ duckscentral.net
PERIOD 1:
1 - 0
PERIOD 2:
2 - 0
PERIOD 3:
2 - 2
OVERTIME:
2 - 3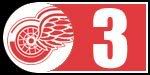 OPINION:
I'm not going to go off on a long overly-winded rant about how much the ref's blew this game. I won't. I will just say that if the Ducks had 10 power play opportunities they would likely win the game too, and they probably wouldn't have to go to overtime to do it either. That's all I will say. 10 yes, I'd say half were legit, the other half were bogus. The ref that helped Detroit win it was his 2nd NHL game. He should not survive to his 3rd. Ridiculous.
On top of that this was yet ANOTHER 3 point game. (And looky there, Sharks and Dallas had ANOTHER 3 point game too...) The Ducks actually looked quite strong in the first two periods in spite of 6 penalty calls against them. They left the 2nd up 2 goals. The 3rd is another story. Detroit got to go on another power play and finally on their 7th opportunity they got one past Jiggy. Then they got ANOTHER opportunity and just as the penalty expired they scored. The game went to overtime with, yeah you guessed it, Detroit on the power play. That's where they converged for the game winner.
The Ducks meanwhile, had a whole 4 tries on the PP. 4.
POST GAME QUOTES:
"We had a 2-0 lead going into the third period and in the first two minutes we take an offensive zone penalty 200 feet from our net," Ducks coach Randy Carlyle said. "And then take an unsportsmanlike conduct penalty. How can you have a 2-0 lead with those kind of penalties? Just self-destructed."
"We took way too many penalties the entire game," Sexton said. "Five-on-five we had them pretty good."
Source for Quotes:
ducks.nhl.com
PHOTO OF THE GAME:
Anaheim Ducks center Saku Koivu (11), of Finland, celebrates his goal with teammates next to Detroit Red Wings goalie Jimmy Howard (35) during the second period of an NHL hockey game in Detroit, Friday, Dec. 11, 2009. (PHOTO CREDIT: Yahoo Sports)