codebase="http://active.macromedia.com/flash2/cabs/swflash.cab#version=4,0,0,0"
ID=onepiece-sj WIDTH=400 HEIGHT=533>


Graphic Credit: BuckyHermit @ duckscentral.net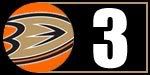 POST GAME QUOTES:
"It's important that we found a way to win, especially on the road," Hiller said. "We shouldn't have let them come back in the third, but we knew they wanted to do something."
"(Nokelainen)'s shot, I had nothing to do with it," Selanne said. "It was total luck when it hit my shaft and went in. It was a good way to start my comeback."
"When you get to play with Getzlaf and Perry, you should be able to find the back of the net a few times," Anaheim coach Randy Carlyle said.
"We didn't want to give up the power-play goal and the goal late to give them the opportunity to get points, but we found a way to get it done," Carlyle said. "We'll take the two points and move on."
Source for Quotes:
ducks.nhl.com
PHOTO OF THE GAME:
Anaheim Ducks right wing Teemu Selanne (8), of Finland, scores a goal against Nashville Predators goalie Pekka Rinne, of Finland, second from left, in the first period of an NHL hockey game on Saturday, Jan. 9, 2010 in Nashville, Tenn. Also defending for the Predators are Marcel Goc (9), of Germany, and Ryan Jones (28). (Photo Credit: Yahoo Sports)