codebase="http://active.macromedia.com/flash2/cabs/swflash.cab#version=4,0,0,0"
ID=onepiece-sj WIDTH=400 HEIGHT=533>


Graphic Credit: BuckyHermit @ duckscentral.net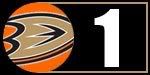 POST GAME QUOTES:
"The big difference in the game was that our power play has to be a little bit better than that," center Ryan Getzlaf said. "We have to be able to make it when we have that man advantage. That was pretty much the difference in the game tonight. We had our chances and it's not for a lack of effort or execution. It's a matter of getting them into the net and past them."
"We were much closer in the game and the difference was that we made a mistake and they score a power play goal off a faceoff," Anaheim coach Randy Carlyle said. "We have all but eight seconds of it killed and we reacted poorly on the one draw by them."
Source for Quotes:
ducks.nhl.com
PHOTO OF THE GAME:
SAN JOSE, CA - JANUARY 21: Scott Niedermayer #27 of the Anaheim Ducks tries to control the puck with a sliding Jason Demers #60 of the San Jose Sharks at HP Pavilion on January 21, 2010 in San Jose, California. (Photo by Ezra Shaw/Getty Images)