codebase="http://active.macromedia.com/flash2/cabs/swflash.cab#version=4,0,0,0"
ID=onepiece-sj WIDTH=400 HEIGHT=533>


Graphic Credit: BuckyHermit @ duckscentral.net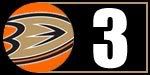 POST GAME QUOTES:
"Hillsie stole the game for us, simple as that," Anaheim's Corey Perry said about goalie after the Ducks won 3-1 on Sunday night despite being outshot 43-12. "Quality scoring chances ... they probably had 15 to 20. He came up huge for us."
"We've developed something the last few games," Hiller said. "That's what we need to do to get back to the playoffs. If we keep playing like we did tonight, we have a real good chance."
"You don't ask (one player) to win you the game, but [Hiller] went above that and won the hockey game for us," Anaheim coach Randy Carlyle said. "This isn't an easy to building to come into. They have a very good club and the shot total proved it."
Source for Quotes:
ducks.nhl.com
PHOTO OF THE GAME:
CHICAGO - JANUARY 10: Jonas Hiller(notes) #1 of the Anaheim Ducks is congratulated by teammate Scott Niedermayer(notes) #27 after a win over the Chicago Blackhawks at the United Center on January 10, 2010 in Chicago, Illinois. The Ducks defeated the Blackhawks 3-1. (Photo by Jonathan Daniel/Getty Images)