codebase="http://active.macromedia.com/flash2/cabs/swflash.cab#version=4,0,0,0"
ID=onepiece-sj WIDTH=400 HEIGHT=533>


Graphic Credit: BuckyHermit @ duckscentral.net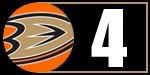 OPINION:
The TV shared a piece of info before the game started. The Ducks are bad on the road. Ducks fans know this. But they were 2-7-0 on the road in the last 9 road games. I thought about it, and those 2 wins were when Selanne was in the lineup. So you'll understand why things looked dreary when the Ducks went down 3-0 in the 3rd period. I'll admit it, I wanted badly to change the channel and turn the game off. But out of all honesty I had a thought before hitting the clicker... "what if the Ducks had a comeback and I missed it because I couldn't stick with them through the full 60 minutes" .. that thought is what prevented me from changing the channel, and right after that thought, Niedermayer scored off a sweet pass from Perry. Alright so it was 3-1... still a grim outlook with 13 minutes left... From my experience, that's more than enough time to get 2 more, but could the Ducks pull it off? The answer is obviously yes if you caught a look at the final score before reading this. They could and they did. Bobby Ryan was the man of the hour getting in 2 goals. His 2nd coming with literally just seconds left on the clock with the extra man advantage as Hiller was on the bench. The shootout went to a staggering 7 rounds and who other than James Wisniewski to steal the win? Yep. Wiz was the 7th shooter for the Ducks. Perry scored, Getzlaf scored -- Ryan, Sexton, Beleskey, and Artyukhin couldn't convert -- and then came Wiz to win the game. Impressive comeback win doesn't seem to adequately explain it. St. Louis should be checking their wallets and their purses, because they just got robbed.
POST GAME QUOTES:
"He's (Wisniewski) a confident guy and those situations don't rattle him," Carlyle said. "He made a hell of a move."
"I said, 'Give a defenseman a try,"' Wisniewski recalled. "We never get an opportunity. When I saw it go in, it was a pretty good feeling."
"It was a surprise pick to me," said Ryan, who leads U.S.-born players with 24 goals. "We play breakaway games every day (in practice) and he's always one of the guys that scores."
"This was monumental," Ryan said. "It was like a playoff game. This shows that we're a very resilient team, able to bounce back in the face of almost everything."
Source for Quotes:
ducks.nhl.com
PHOTO OF THE GAME:
Anaheim Ducks' James Wisniewski celebrates after teammate Bobby Ryan scored to tie the game 3-3 during the third period of an NHL hockey game against the St. Louis Blues, Saturday, Jan. 23, 2010, in St. Louis. Wisniewski ended up scoring the game-winning goal in a shootout to defeat the Blues 4-3.(Photo Credit: Yahoo Sports)